Skype Award
Competition year
2014
Active Dates (GMT):
Mon, 5 May 2014 00:01 - Tue, 20 May 2014 23:59
Online Competition
At the core of Skype is a belief that useful, universal, wonderful technology like Skype can be used in a variety of ways to make life better. We know from our hundreds of millions of Skype users around the world that they are already using it in countless innovative ways every day to help others. Some examples include the 80,000 teachers using Skype to inspire their students or non-profits like Imerman's Angels using Skype to provide peer support for those facing cancer. The Skype Awards are meant to tap into that innovative and creative spirit to amongst the Imagine Cup community to deliver new ideas on how to leverage Skype to have a positive social impact.
Our Skype for Good program is all about leveraging technology and innovating to overcome societal challenges and have a positive impact in the world. A great example is our low-bandwidth version of Skype created for the United Nations Refugee Agency. The alignment between Imagine Cup and Skype could not be more natural. We are excited to see the innovative new uses of Skype that come from the Imagine Cup contestants. These are the first Imagine Cup Skype Awards, but we hope that they will lead to concepts that can be explored further and implemented in order to have a real impact in the world.
Prizes & Categories
Every Imagine Cup 2014 World Semifinalist student will receive a $50 Skype credit voucher! In addition, three World Semifinalist teams will be chosen to receive $5,000 for recording the best Skype video message explaining how they could use Skype to do great things in the world. One team will win in each of three categories:
Innovate and Collaborate as a Team: Skype is for doing things together whenever you're apart. Tell us how you and your team used Skype to work better together during Imagine Cup or how you used Skype technology to conduct research, interact with stakeholders, or any other use of Skype to improve your results. If you did not use Skype this year, how could you image using Skype going forward? During your prototyping and pilot process, could you use Skype video messages to gather insights from end users? What other innovative ideas do you have to leverage Skype for increased collaboration and improved results?
Drive Social Impact through Social Innovation: If your project focuses on overcoming humanitarian, healthcare, isolation, environmental or other societal issues, what new innovative ways could Skype be used? There are no limits here, share with us your ideas for new Skype applications or functionality that will help your social impact initiative reach scale.
Learning / Education:Skype is being used in a variety of ways in traditional and non-traditional education environments around the world every day. You can get some ideas of how by looking through both our Skype in the classroom program and the School in the Cloud initiative led by TED Prize winner Sugata Mitra. Let us know how you think Skype can help transform and enhance education.
World Semifinalist teams can sign up for this contest now. The submission deadline is 23:59 GMT May 20, 2014. Winners will be announced when we announce the World Finalist teams, but you don't have to be chosen as a World Finalist team to win this award.
Step 1: Add Imagine Cup Contact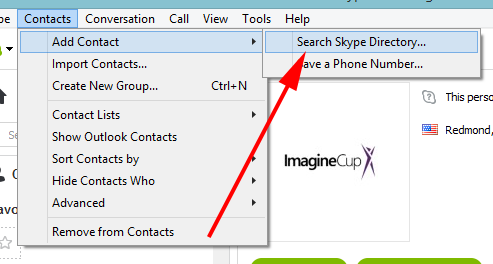 From the Skype application, click Contacts, and select 'Add Contact' and then 'Search Skype Directory'.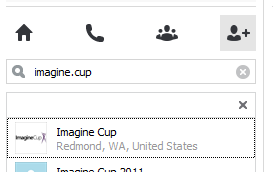 Enter 'imagine.cup' in the search field, and select the Imagine Cup contact.
Step 2: Record and Send Your Video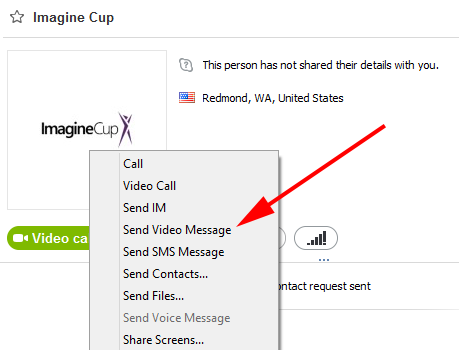 Right click on the Imagine Cup logo, and select 'Send Video Message'.
Click the round Record button to begin recording your video message. When you're finished, click the Record button again to stop your recording.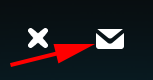 Click the Send button to send your video message to Imagine Cup!
Step 3: Tell Us Your Username
Log in to your Imagine Cup Dashboard and submit for the Skype Award there. All you have to do is fill out the submission form including your Skype username. This ensures we can connect your video with your team.
Good luck to all our World Semifinalists!